Rectangular Bamboo Desk Clock
Rectangular Bamboo Desk Clock and Eco-Friendly Bamboo Analog Clocks with Branding and Printing Options.
Material: Bamboo
Item size: 162 x 86 x 38 mm
Weight: 0.289 kg
Colors: Natural wood
Packaging:

Kraft Box.

Eco-Friendly Products
Printing Options
Laser Engraving
Screen Printing
UV Printing
Clock Printing Instructions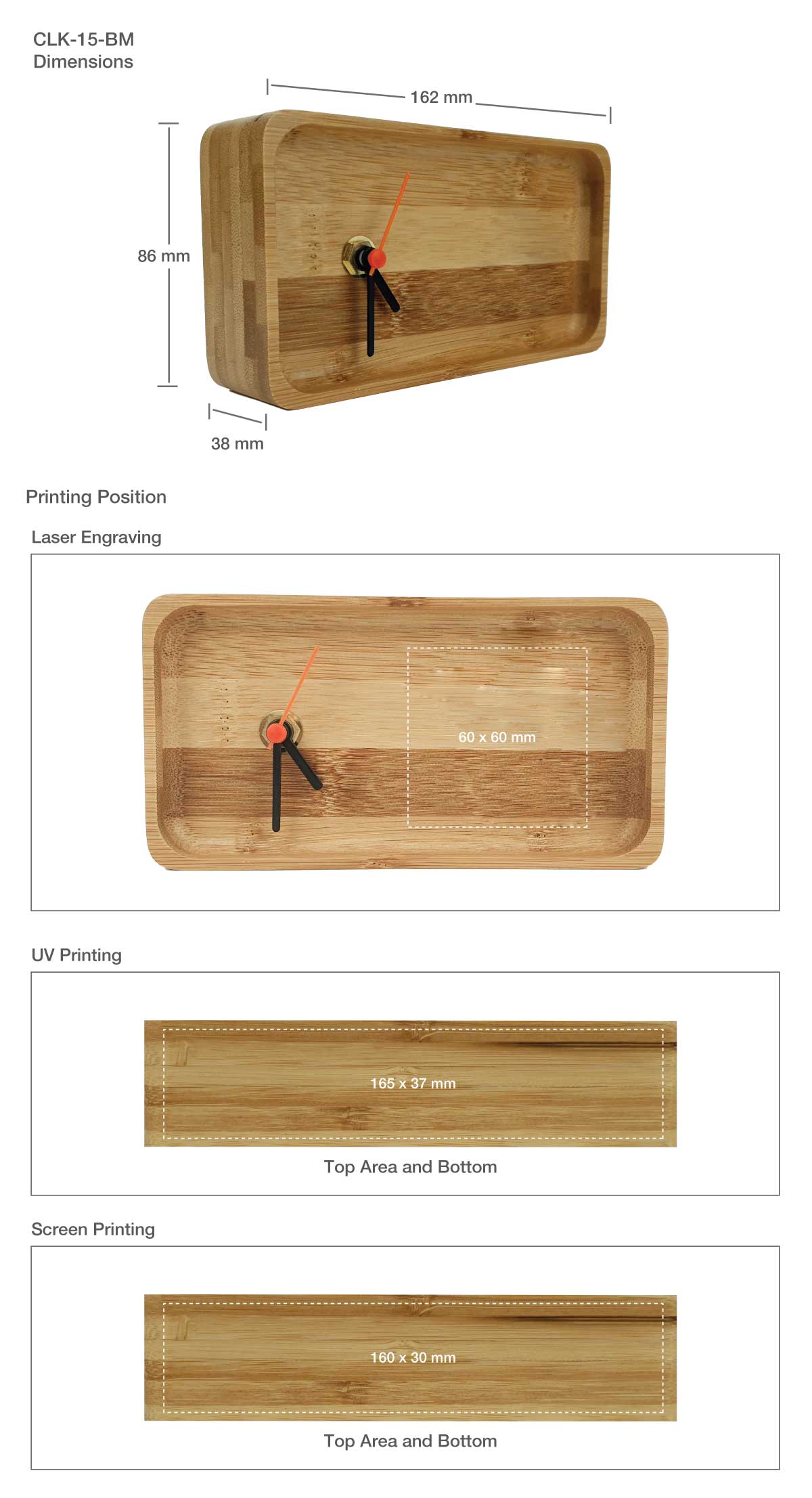 Introduce a touch of natural elegance to your office or home with the Rectangular Bamboo Desk Clock. This clock is stylish and sustainable and made from eco-friendly bamboo. With a sleek and modern design, measuring 162 x 86 x 38 mm and weighing only 0.289 kg, this clock is the perfect size for any desk or tabletop. The natural wood color of the bamboo adds a touch of warmth to any space. Packaged in a Kraft box, this clock can be gifted or used personally.
This clock offers a variety of printing options to make it truly unique. You can choose from laser engraving, screen printing, or UV printing to add your logo or message. There's no better time to get your hands on this stylish, eco-friendly clock.
The Rectangular Bamboo Desk Clock is a beautiful addition to any room and a functional one. Its accurate timekeeping and elegant design make it a perfect fit for any setting. Whether you are looking for a unique corporate gift or want to add style to your home office, the Rectangular Bamboo Desk Clock is perfect. Add this clock to your collection of bamboo-made products from Magic Trading Co. for a cohesive look.
So, what are you waiting for? Order yours today and experience the beauty and sustainability of bamboo. It is undoubtedly the best purchase you will make today, especially at the prices it is available at!