Bamboo Tea Coasters with Case
Eco-Friendly Bamboo Tea Coasters 4 Pcs Sets with Case with Branding options.
Material: Bamboo
Item size: 110 x 110 x 35 mm
Weight: 0.284 kg
Colors: Natural wood
Packaging:

Kraft Box.

Eco-Friendly Products
Printing Options
Laser Engraving
Screen Printing
UV Printing
Coaster Printing Instructions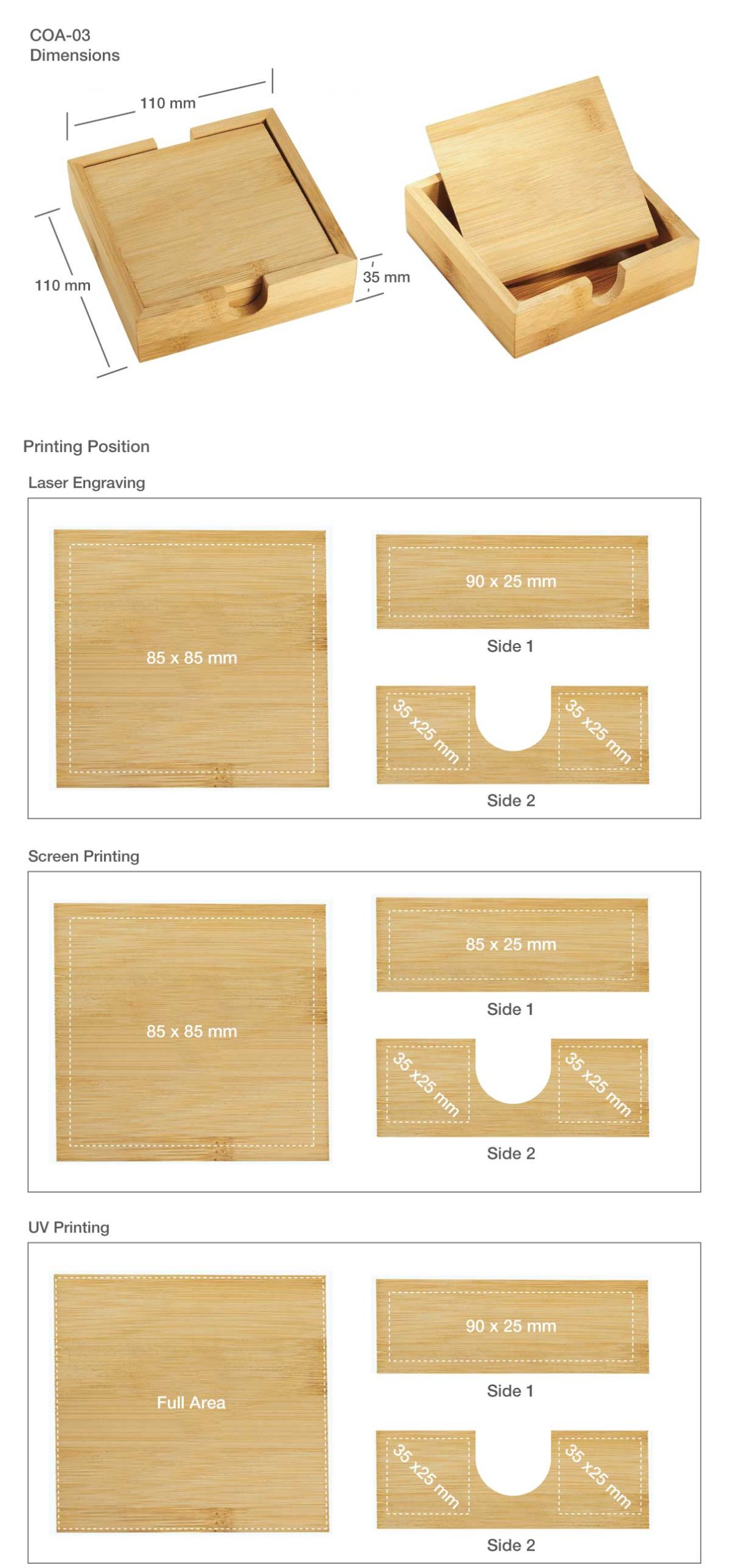 Bamboo is a sustainable and renewable resource, making it a responsible choice for both the environment and consumers. Bamboo products are an excellent choice for eco-friendly and stylish options. And one of the finest bamboo-made products you can purchase is our Bamboo Tea Coasters with a case.
The Bamboo Tea Coasters with Case are an excellent addition to any tea enthusiast's collection. These coasters not only protect your furniture from stains but also add a touch of style to your home. The set includes four coasters, each measuring 110 x 110 x 35 mm and weighing 0.284 kg, providing a perfect size for any cup or mug. The natural wood color of the bamboo adds a touch of elegance to any space, and the coasters come packaged in a Kraft box, making them perfect for gifting or personal use.
To add a unique touch, personalize your coasters with our printing options, such as laser engraving, screen printing, or UV printing. These coasters are functional and come with a case that makes it easy to transport them to different locations. Whether you are looking for a corporate gift or want to add a touch of elegance to your home, these bamboo coasters are perfect. In addition, the Bamboo Tea Coasters with a Case are durable and long-lasting, making them a great investment for any household. They are also easy to clean and maintain; simply wipe them down with a damp cloth to keep them looking like new.