Bamboo Mobile Holder and Stands
Eco-Friendly Bamboo Mobile Stands and Phone Holder made from Bamboo. It has a hole slot design for the charging cable and a detachable feature for easy storage.
Material: Bamboo
Item size: 80 x 80 x 129 mm
Weight: 0.066 kg
Colors: Natural wood
Packaging: Bubble Wrap.
Eco-Friendly Products
Printing Options
Screen Printing | Area: Front and Back | Printing Size: 70x100mm (Holder) | 70x40mm (Stand)
UV Printing | Area: Front and Back | Printing Size: 78 x 12 mm (Holder)  | 70 x 40 mm (Stand)
Laser Engraving | Area: Front and Back | Printing Size: 70x105mm (Holder)  | 70x35mm (Stand)
Mobile Stand Printing Instructions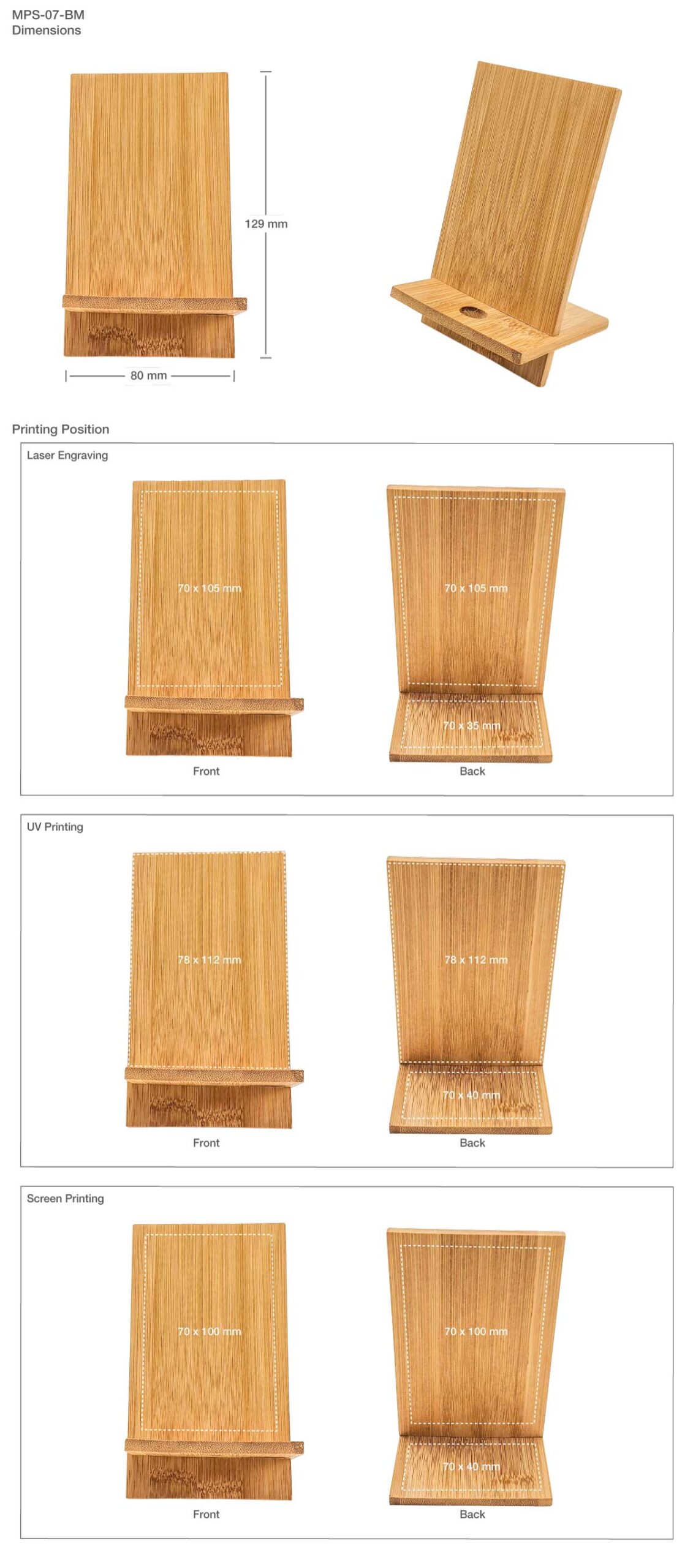 Elevate your desktop with a touch of natural elegance by using our Bamboo Mobile Stands. Made from sustainable bamboo, these stands are not only stylish but also eco-friendly. The natural wood color of the bamboo adds warmth to the design and serves as a natural insulator, providing sturdy support for your mobile phone.
The Bamboo Mobile Stand is designed with a hole slot that allows you to quickly charge your device while in the stand, making it an extremely convenient and practical tool for anyone who uses their phone frequently. The detachable feature allows for easy storage and portability, making it perfect for use at home, in the office, or on the go.
The stand measures 80 x 80 x 129 mm and weighs 0.066 kg, providing a perfect size to hold any mobile phone. The packaging is made from bubble wrap, ensuring that the stand reaches you in excellent condition.
Why choose our Bamboo Mobile Stands?
Made from eco-friendly bamboo
Hole slot design for charging cable
Detachable feature for easy storage
Customizable with printing options such as screen printing, UV printing, and laser engraving.
These stands are a perfect blend of style, functionality, and sustainability, making them a great choice for anyone looking to upgrade their desktop accessories. So, what are you waiting for? Order yours today and experience the convenience, beauty, and eco-friendliness of our Bamboo Mobile Stands.